Description
What sets Tiny Machines 3D apart?

Each LD-006 machine is thoroughly inspected and the following updates are made:
Rain-X Wipe included for a non-stick vat 
Firmware Version Updated 
LD-006 Resin Printers are tested here, at our Houston, TX facility and shipping is free  (mainland USA orders only) .
When machines are in stock, estimated lead time is 2-3 weeks. All machines ship Fedex Ground / Home Delivery. If you have another preference, contact us directly.
The LDR-006 has an All Metal Body with CNC Aluminum Frame,  Linear Rail and a 4K Mono Screen.
Please note that this does not come with resin. 
NOTE: Pictures are for reference and small improvements are always being made. 
Amazing build volume!

192x120x250mm

Stable Z-Axis 
4K Solid-State / Monochrome 8.9" LCD delivers 0.02-0.05mm layer heights for smooth finish

~1-4 second layer times (twice the speed of the LD-002R)
3840x2400 dpi 
Maximum Speed 60mm/h
XY Axis Precision : 0.05mm
Service Life up to 2000H

4.3" Touch Screen

Improved Vat System

Liquid level indicators to help prevent waste
Stands to protect the FEP from scratches

Dual Fan Air Filter System reduces odors from resin
405nm Directional Matrix UV
Slicing Software is Free (download from app developer)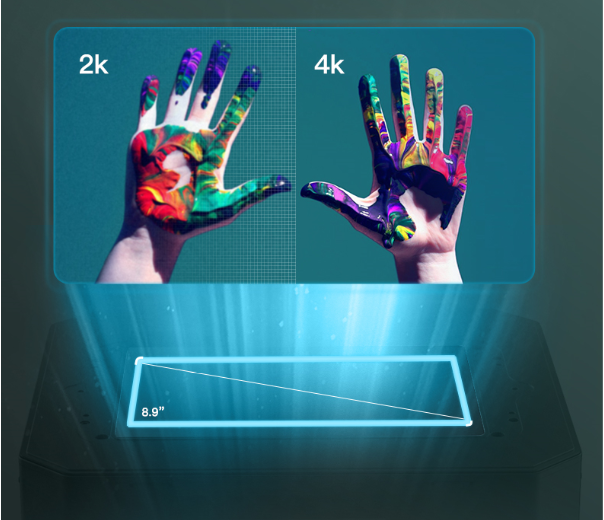 Weight and Size

 

Product weight 13.5 kg

Package weight 17.5 kg

Machine size: 32.5x29x50cm (12.8x11.4x19.7 in)

Package size: 43x40x60cm (17x15.75x23.6 in)

Total Occupied Area 

The machine would fit into and function in a 12x12x22" box.